If you are a small business owner without a website, then it's time to start thinking about a web development company that can help you get noticed. It's a new decade after all! There's no reason not to take the plunge, especially when WordPress is helping small business owners save money, time, and effort. Here's how you can benefit from having a WordPress website in 2020: 
Development Is Open Source
WordPress being open source means it's totally free. You can easily download and install it to create any platform that you want. After installing, it offers a set of basic features right off the bat, so you don't need to spend more money to get yourself established on a platform.
This magic works because WordPress is an open-source platform. One of the most significant benefits of being open source is the low cost of development. To illustrate this, you can create a functional website without spending anything. The only cost of maintaining a website besides development is buying a domain name and purchasing a hosting plan for your website. And even if you decide to go with self-hosting, the cost would also not be high.
There Is Multi-Channel 24/7 Support
WordPress 24/7 support comes from 2 different channels: the official representatives and the broader WordPress community. There are several different WordPress social media groups where you can ask for advice. If you need more comprehensive help and information, or you would like to sign up for a service plan, then you can speak with our WordPress experts.
And if you need help with your website, you can contact us through our contact form. No matter what size platform you have, you will likely need professional maintenance and assistance. Furthermore, without that support, bugs and errors can pile up over time.
Unlimited Storage
Unlike other CMS options, WordPress does not limit storage space. That means you can upload as many images, documents, videos, etc., as you want.
Ease To Use
Whether personally or through a web development company, one of the biggest attractions of WordPress is its ease of use. It was built with nontechnical mainstream users in mind. Also, coding is kept to a minimum for important tasks such as uploading and modifying content. The intuitive WordPress admin dashboard gives you total control over your interfaces. The panel gives users access to everything they need in one place, and most of the options there are self-explanatory. The learning curve is also very kind and the time required to learn it isn't that much.
In fact, WordPress installation and development takes no time at all compared to the other options. This is particularly true when you just have a platform for a few pages. A small business website can go live in less than one week!
Easy To Update
WordPress comes with an inbuilt update management system. This system makes it easy for one person to manage the early stages of the website. With the WordPress management system, you can update plugins and themes all within one place in the WordPress admin dashboard. It's all quite easy and intuitive.
WordPress will always notify website owners when there's a new CMS version available. Updating is as simple as the click of a button. If you aren't sure what to do, then WordPress support would be glad to assist you.
Top-Notch Security
As long as you manage WordPress properly, it's a secure platform. The regular WordPress updates and security patches create a safe environment for your website. The best and most efficient way to maintain the security of your website is to update it regularly. You should continue to update your CMS as well as your theme and any installed plugins. Doing this regularly will help prevent any security issues from arising.
There are also WordPress plugins that are dedicated entirely to security. For instance, there's the "All in One WP Security and Firewall Plugin," which further lowers the risk of malicious attacks by implementing the latest and greatest WordPress security tactics.
Many business owners want to focus on their business and don't have time for website maintenance. If that's you, then our WordPress experts can keep your platform running without issue.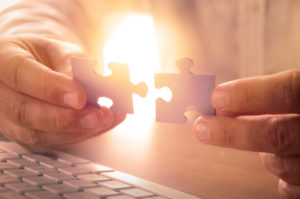 Scalability
Any business that grows its operations should scale up accordingly. With an online store, scalability often comes down to improving your website.
Perhaps your business is doing well offline, but you'd like to improve your online reach. Do you want to add Google maps to your website? How about your social media profiles? Third-party integrations on WordPress can make these tasks easy.
Our WordPress experts can also make your website more functional with advanced API development and integration services.
Plugins Make Development Easy
There's a plugin for just about every kind of website function imaginable. In fact, there are over 54000 plugins in the official plugin repository! The essential WordPress plugins are almost always free. But for special types of plugins and extensions, there is a cost. However, these types of plugins will also help to expand your website's functionality.
If you can't find the right plugin for your needs, you can always contact your designated web development company or the WordPress support team to receive your own custom plugin.
Website Themes 
Designing custom themes can be expensive for small business owners. However, WordPress has a nifty solution to this problem. WordPress offers thousands of pre-built themes in their Theme Directory at WordPress.org. In case the free themes aren't right for you, there are also premium themes that come with added features that are very useful for specific business niches. With so many options for themes, every small business can create its own identity.
SEO "Out Of The Box"
SEO is vital for a well-performing website. WordPress CMS is already optimized for SEO, and search engines acknowledge its website structure. Any web development company would express the importance of SEO.
And that's not all. WordPress also offers several different plugins that can help you further optimize your website's SEO. With these WordPress SEO plugins, you can create relevant keywords, fix broken links, provide an XML sitemap, and more.
eCommerce Ready
The primary objective of any business is to sell products or services. WordPress has all of the solutions that you need to turn your website into an online shop.
The plugins you need for eCommerce include WooCommerce, WP Shopify, and WP eCommerce.
Contact Salt Manage today for advice from one of Kansas City's best web development companies.