Creating sustained growth for your website requires having a comprehensive website management strategy. However, some simple tips can help you to increase website traffic very quickly. SEO is the most well-known strategy for increasing website traffic, but it's more of a long-term strategy.
In this blog post, we're going to discuss six quick and surefire ways to increase traffic to your website. Then, we'll round it off by discussing the tried and true way of increasing traffic to your website long-term: SEO.
So let's begin with tip number 1:
1. Make Your Website Mobile-Friendly
Google and other search engines will penalize your website if it isn't considered "mobile-friendly." Now that there are more mobile users than desktop users, Google is now giving preference to mobile-friendly websites in search results.
2. Put Your Business on Google
Adding your business listing to Google is one of the easiest steps on this list. First, you should have a Google My Business Account profile and get your business listed on Google Maps.
When people search for businesses on Google, yours won't show up if you're not registered. 81% of people search online before making a purchasing decision. They should have the opportunity to find your website, right?
3. Add Your Business to the BBB
People are still using professional directories to discover businesses that are accredited and trustworthy. Simply add your business to your local BBB. Doing so will establish your business as officially recognized, which will give your business another way to show up in search results for potential clients.
4. Have Your Personal Network Help Spread the Word
You can leverage your existing network of personal connections to help spread the news about your website. Remember that 92% of people trust their friends' referrals, so their referral will surely help you bring in some more traffic and sales.
5. Share Your Social Media Links
Especially for Twitter, LinkedIn, and Facebook. These websites have grown into useful tools to help small businesses grow. These sites have huge audiences that you can tap into. In fact, Facebook has 1.65 billion monthly active users. Besides, connecting your business to social media can improve your SEO score as well.
6. Ask Your Customers to Leave Positive Reviews
Online reviews are more important than many people realize. The number of stars you have next to your business listing can dictate whether or not someone visits your website or looks elsewhere. This fact isn't surprising when 90% of consumers say that they trust online reviews.
As you can see, getting more traffic to your website isn't as daunting as it may seem. Many of these tips are simple and quick to implement. These tips are proven to pay off right away.
Now, let's discuss SEO, a long-term strategy that pays off dividends when done correctly. 
Learn How SEO Can Benefit Your Business
SEO is essential because if your website appears too far down in the search results, you'll lose out on clicks and leads. However, while simple SEO tasks are proven to work, they can be difficult to learn and master. As a busy business owner, you likely don't have time for that, so you should just do what's proven to work and leave the more complicated aspects to marketers who specialize in this field.
When it comes to increasing traffic to your website, keyword research is the first step. Along with website management, it's one of the most important parts of digital marketing, and it should be your main priority.
If you're just now dipping your toes into SEO and digital marketing, then you've undoubtedly heard keyword research mentioned. But why is it talked about so much? If you're thinking about skipping this step – then don't! For every search on the internet, keywords are involved. First, we'll look into what keywords are and then explain why they're so important.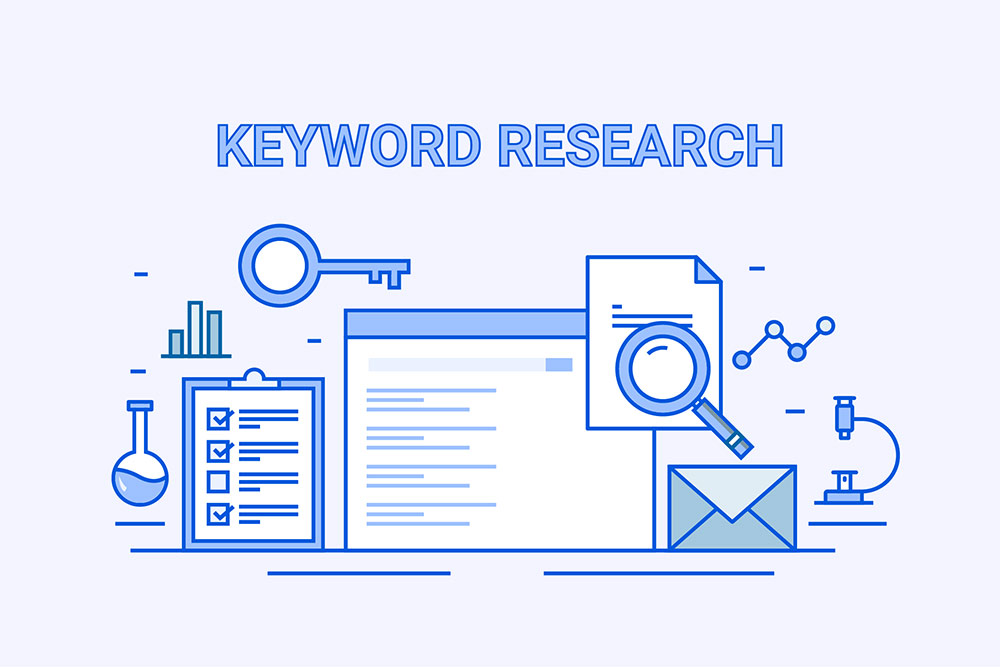 The Importance of Keywords for Increasing Website Traffic
A keyword search includes words used by internet users to describe what they're looking for. For example, if I'm looking for red socks, I might search "red socks for men" or "Adidas red socks for men." These are both examples of keywords. There are two types of keywords: longer (long-tail) keywords and shorter (short-tail) keywords.
So users put in the keywords, and businesses have to put in the research! Companies must do keyword research to figure out what terms their target audience is searching for. If you don't know what keywords they are using, they won't find you online.
Also, keywords aren't just important for searchers; they're essential for Google too. Google and other search engines will read over the content on your website and look for keywords while also giving you rankings for any keywords found. This is how SEO begins.
Why Is Keyword Research Also Important?
Keyword research doesn't just mean coming up with keywords; it also means understanding how you can rank for your target keywords and how you could raise those rankings.
There are countless reasons why keyword research should be a top priority in your digital marketing campaign. Here are some of the essential ones:
Figuring out your target keywords will help you better understand your own business and brand.

Keyword research will tell you crucial information like how high you're ranking (or if you're ranking at all) for specific keywords.

You can also learn which keywords are the easiest to rank for and whether competitors rank for them yet.

Keyword research will reveal to you what people are searching for, rather than you having to rely on your gut instincts for what you think people are searching for.

Your small business website can only rank in search if Google understands what your business is all about. If you target the correct keywords for each page of your website, Google can rank you for those keywords.
While keyword research is the starting point, it really is an ongoing process. Part of the process is checking your rankings for keywords regularly to know how you're doing compared to competitors.
Once you've done your keyword research, focus on content creation incorporating those keywords. Then, along with proper website management, you'll be well on your way to ranking higher in Google and getting more people to discover your website.